EXPANSION GRILLS
Economical anti-burglary detterent
To help you better understand our home repair capabilities, we have gathered together a few of our featured projects. These projects represent the types of projects that we most often complete. However, it is important to note, that while we love completing large home repair projects, no task is too small for our team. Whether it is a simple repair or a complex home repair project, we firmly believe in delivering a high-quality final product that will exceed your expectations. No matter the size, all of our projects will improve the value, beauty, or functionality of your home.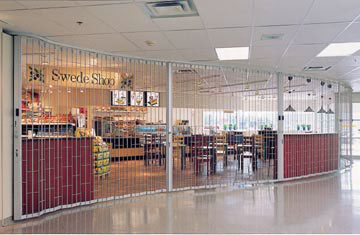 Sliding Grilles
the Classic the most economical and lightweight open style sliding grille, it easily blends with any decor, providing unobtrusive protection. It's fine lines and high visibility makes the Classic an effective traffic barrier, while maintaining a sense of open space. With a hanging weight of only 0.8 lbs. per sq. ft., it is the best partition to install on structures with limited support. The Classic 126 is a good choice for floor to ceiling area dividers in public spaces such as offices, hospitals, food courts and lobbies
Sentry Grill
These attractively patterned open style sliding grilles provide a high level of security for a lower cost.
Sentry is a multipurpose grill often used in behind glass applications. They are secure enough to lock up store fronts and yet are open enough to allow air circulation through them. These grilles are ideally suited for applications such as food service kiosks. Sentrys are solid, substantial grilles that will stand up to the rigors of use in schools and stadiums.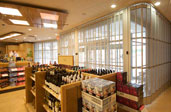 Perforated Grill
The Perforated Vista AS400 uses the same hinge and hangar technology to insure top quality in relation to industry standards. Small circular punched holes are made in a painted steel sheet to grant air and light circulation. This design exposes the secure area visually while providing a rigid physical barrier.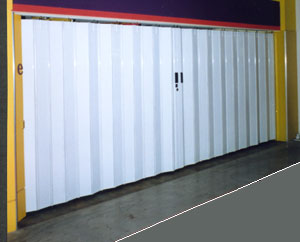 Solid Grill
Solid Vista provides maximum-security protection along with absolute visual privacy. Full height aluminum panels together with heavy gauge dedicated extrusions, make the Solid Vista a formidable barrier against theft and vandalism as well as preying eyes. The Solid Vista is also suitable for a myriad of applications where restricted airflow is required and some acoustic separation is desired. This product is ideal for a wide variety of settings, anywhere from banks to bars. Unlike some of our open concept sliding grilles, the Solid Vista eliminates the temptation of theft by removing the visual enticement.